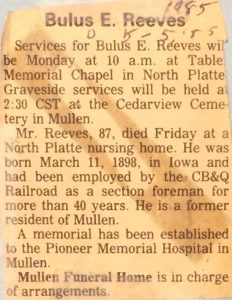 Services for Bulus E. Reeves will be Monday at 10 a.m. at Table Memorial Chapel in North Platte. Graveside services will be held at 2:30 CST at the Cedarview Cemetery in Mullen.
Mr. Reeves, 87, died Friday at a North Platte nursing home. He was born March 11, 1898, in Iowa and had been employed by the CB&Q Railroad as a section foreman for more than 40 years. He is a former resident of Mullen.
A memorial has been established to the Pioneer Memorial Hospital in Mullen.
Mullen Funeral Home is in charge of arrangements.