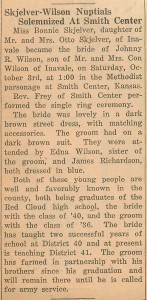 Miss Bonnie Skjelver, daughter of Mr. and Mrs. Otto Skjelver, of Inavale became the bride of Johnny R. Wilson, son of Mr. and Mrs. Con Wilson of Inavale, on Saturday, October 3rd, at 1:00 in the Methodist parsonage at Smith Center, Kansas.
Rev. Frey of Smith Center performed the single ring ceremony.
The bride was lovely in a dark brown street dress, with matching accessories. The groom had on a dark brown suit. They were attended by Edna Wilson, sister of the groom, and James Richardson, both dressed in blue.
Both of these young people are well and favorably known in the county, both being graduates of the Red Cloud high school, the bride with the class of '40, and the groom with the class of '36. The bride has taught two successful years of school at District 40 and at present is teaching District 41. The groom has farmed in partnership with his brothers since his graduation and will remain there until he is called for army service.