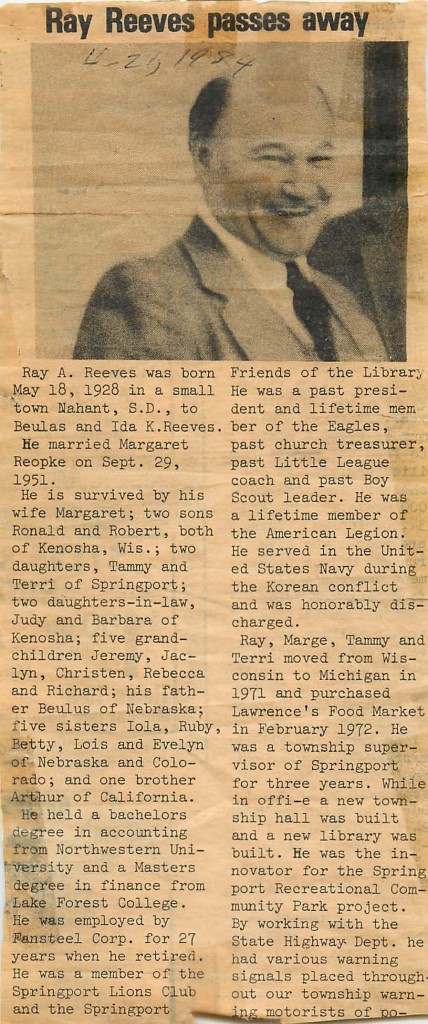 Ray A. Reeves was born May 18, 1928 in a small town Nahant, S.D., to Bulus and Ida K. Reeves.
He married Margaret Reopke on Sept. 29, 1951.
He is survived by his wife Margaret; two sons Ronald and Robert, both of Kenosha, Wis.; two daughters, Tammy and Terri of Springport; two daughters-in-law, Judy and Barbara of Kenosha; five grandchildren Jeremy, Jaclyn, Christen, Rebecca and Richard; his father Bulus of Nebraska; five sisters Iola, Ruby, Betty, Lois and Evelyn of Nebraska and Colorado; and one brother Arthur of California.
He held a bachelors degree in accounting from Northwestern University and a Masters degree in finance from Lake Forest College. He was employed by Fansteel Corp. for 27 years when he retired. He was a member of the Springport Lions Club and the Springport Friends of the Library. He was a past president and lifetime member of the Eagles, past church treasurer, past Little League coach and past Boy Scout leader. He was a lifetime member of the American Legion. He served in the United States Navy during the Korean conflict and was honorably discharged.
Ray, Marge, Tammy and Terri moved from Wisconsin to Michigan in 1971 and purchased Lawrence's Food Market in February 1972. He was a township supervisor of Springport for three years. While in office a new township hall was built and a new library was built. He was the innovator for the Springport Recreational Community Park project. By working with the State Highway Dept. he had various warning signals placed throughout our township warning motorists of po-
Note:
This newspaper clipping incorrectly spells Ray's father's name as "Beulus" , instead of "Bulus".