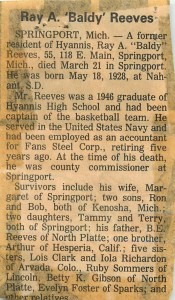 Ray A. 'Baldy' Reeves
SPRINGPORT, Mich. – A former resident of Hyannis, Ray A. "Baldy" Reeves, 55, 118 E. Main, Springport, Mich., died March 21 in Springport. He was born May 18, 1928, at Nahant, S.D.
Mr. Reeves was a 1946 graduate of Hyannis High School and had been captain of the basketball team. He served in the United States Navy and had been employed as an accountant for Fans Steel Corp., retiring five years ago. At the time of his death, he was county commissioner at Springport.
Survivors include his wife, Margaret of Springport; two sons, Ron and Bob, both of Kenosha, Mich.; two daughters, Tammy and Terry both of Springport; his father, B.E. Reeves of North Platte; one brother, Arthur of Hesperia, Calif.; five sisters, Lois Clark and Iola Richardson of Arvada, Colo., Ruby Sommers of Lincoln, Betty K. Gibson of North Platte, Evelyn Foster of Sparks; and other relatives.