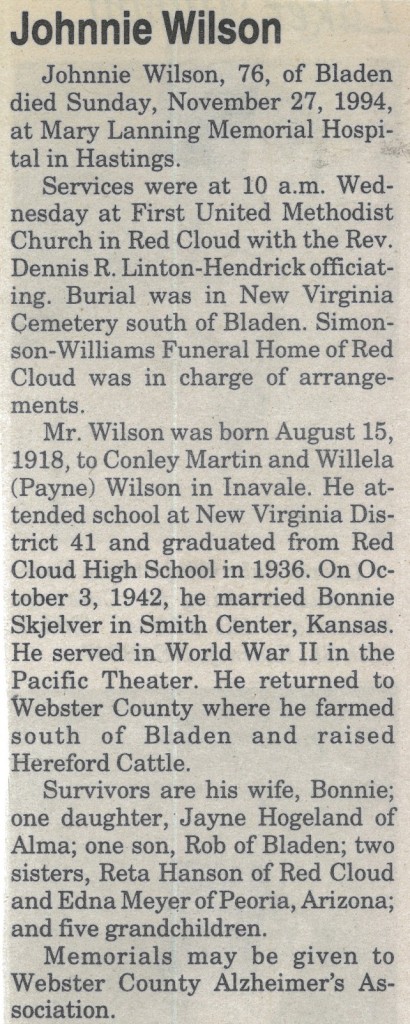 Johnnie Wilson, 76, of Bladen died Sunday, November 27, 1994, at Mary Lanning Memorial Hospital in Hastings.
Services were at 10 a.m. Wednesday at First United Methodist Church in Red Cloud with the Rev. Dennis R. Linton-Hendrick officiating. Burial was in New Virginia Cemetery south of Bladen. Simonson-Williams Funeral Home of Red Cloud was in charge of arrangements.
Mr. Wilson was born August 15, 1918, to Conley Martin and Willela (Payne) Wilson in Inavale. He attended school at New Virginia District 41 and graduated from Red Cloud High School in 1936. On October 3, 1942, he married Bonnie Skjelver in Smith Center, Kansas. He served in World War II in the Pacific Theater. He returned to Webster County where he farmed south of Bladen and raised Hereford Cattle.
Survivors are his wife, Bonnie; one daughter, Jayne Hogeland of Alma; one son, Rob of Bladen; two sisters, Reta Hanson of Red Cloud and Edna Meyer of Peoria, Arizona; and five grandchildren.
Memorials may be given to Webster County Alzheimer's Association.