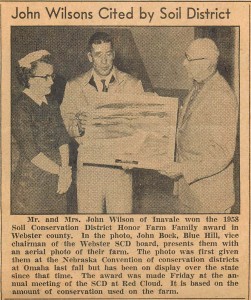 Mr. and Mrs. John Wilson of Inavale won the 1958 Soil Conservation District Honor Farm Family award in Webster county.  In the photo, John Bock, Blue Hill, vice chairman of the Webster SCD board, presents them with an aerial photo of their farm.  The photo was first given to them at the Nebraska Convention of conservation districts at Omaha last fall but has been on display over the state since that time.  The award was made Friday at the annual meeting of the SCD at Red Cloud.  It is based on the amount of conservation used on the farm.
Source:
(Nebraska) Daily Tribune
March 6, 1959
---

This is the plate attached to the photo in the article above. You can view the 1958 Aerial Photo here.