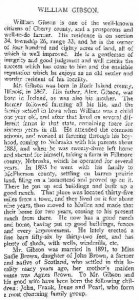 William Gibson is one of the well-known citizens of Cherry county, and a prosperous and well-to-do farmer. His residence is on section 34, township 26, range 33, and he is the owner of four hundred and eighty acres of land, all of which is well improved. He is a gentleman of integrity and good judgment and well merits the success which has come to him and the enviable reputation which he enjoys as an old settler and worthy resident of his locality.
Mr. Gibson was born in Rock Island county, Illinois, in 1867. His father, Alex. Gibson, was born in Ireland, as was also his mother. The former followed farming all his life, and the family settled in Iowa when William was a child one year old, and after that lived on several different farms in that state, remaining there for sixteen years in all. He attended the common schools, and worked at farming through his boyhood, coming to Nebraska with his parents about 1883, and when he was twenty-three left home and started for himself, taking a farm in Fillmore county, Nebraska, which he operated for several years. In 1893 he went with his family to McPherson county, settling on barren prairie land, filing on a homestead and proved up on it. There he put up sod buildings and built up a good ranch. That place was located thirty-five miles from a town, and they lived on it for about nine years, then moved to Mullen and made that their home for two years, coming to his present ranch from there. He now has a good ranch and home, having put up good buildings, fences and every improvement. He lately erected a fine barn fifty-six by thirty- two feet, and has plenty of sheds, with wells, windmills, etc.
Mr. Gibson was married in 1891, to Miss Sadie Brown, daughter of John Brown, a farmer and native of Scotland, who settled in this locality many years ago, her mother's maiden name was Agnes Brown. To Mr. Gibson and his good wife have been born the following children: John, Frank, Irene and Pearl, who form a most charming family group.
Source:
Compendium of History Reminiscence & Biography of Western Nebraska
Chicago: Alden Publishing Company, 1909
Page 205
Note:
William Gibson and Sadie Brown were actually married in January of 1892 (see Certificate of Marriage).