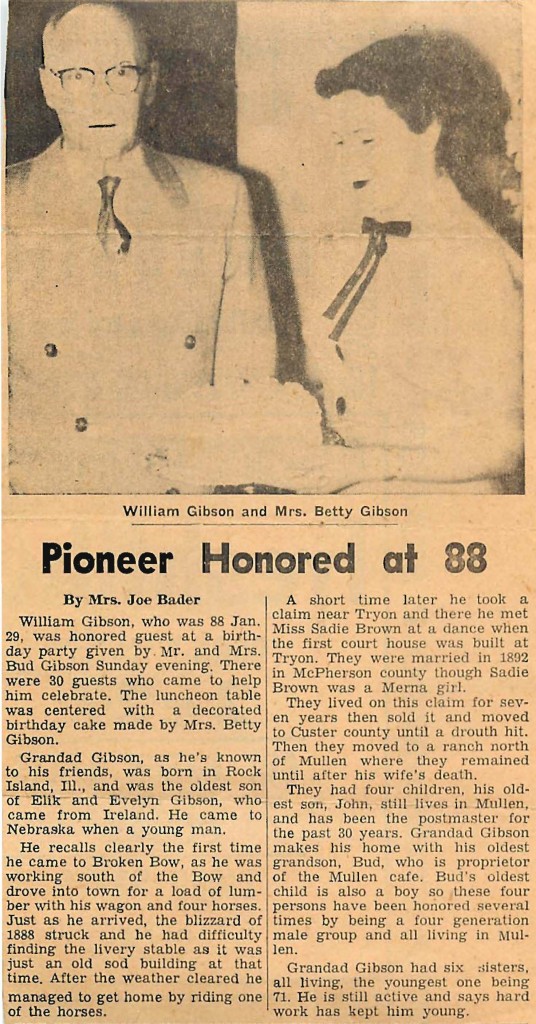 By Mrs. Joe Bader
William Gibson, who was 88 Jan. 29, was honored guest at a birthday party given by Mr. and Mrs. Bud Gibson Sunday evening. There were 30 guests who came to help him celebrate. The luncheon table was centered with a decorated birthday cake made by Mrs. Betty Gibson. Grandad Gibson, as he's known to his friends, was born in Rock Island, Ill., and was the oldest son of Elik and Evelyn Gibson, who came from Ireland. He came to Nebraska when a young man.
He recalls clearly the first time he came to Broken Bow, as he was working south of the Bow and drove into town for a load of lumber with his wagon and four horses. Just as he arrived, the blizzard of 1888 struck and he had difficulty finding the livery stable as it was just an old sod building at that time. After the weather cleared he managed to get home by riding one of the horses.
A short time later he took a claim near Tryon and there he met Miss Sadie Brown at a dance when the first court house was built at Tryon. They were married in 1892 in McPherson county though Sadie Brown was a Merna girl. They lived on this claim for several years then sold it and moved to Custer county until a drouth hit. Then they moved to a ranch north of Mullen where they remained until after his wife's death.
They had four children, his oldest son, John, still lives in Mullen, and has been the postmaster for the past 30 years. Grandad Gibson makes his home with his oldest grandson, Bud, who is proprietor of the Mullen cafe. Bud's oldest child is also a boy so these four persons have been honored several times by being a four generation male group and all living in Mullen.
Grandad Gibson had six sisters, all living, the youngest one being 71. He is still active and says hard work has kept him young.
Note:
Article incorrectly identifies Elik's wife as "Evelyn", when her name is "Ellen".