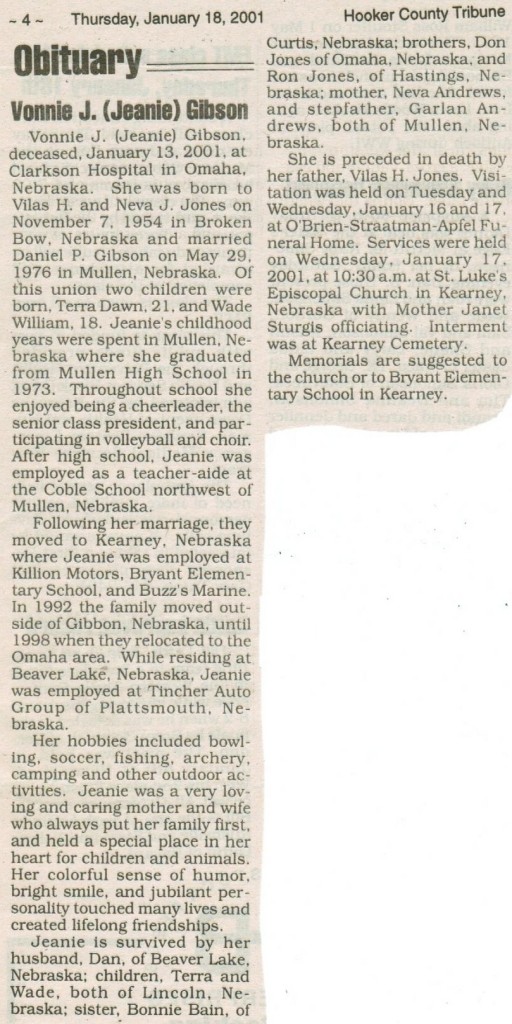 Vonnie J. (Jeanie) Gibson, deceased, January 13, 2001, at Clarkson Hospital in Omaha, Nebraska.  She was born to Vilas H. and Neva J. Jones on November 7, 1954 in Broken Bow, Nebraska and married Daniel P. Gibson on May 29, 1976 in Mullen, Nebraska.  Of this union two children were born, Terra Dawn, 21, and Wade William, 18.  Jeanie's childhood years were spent in Mullen, Nebraska where she graduated from Mullen High School in 1973.  Throughout school she enjoyed being a cheerleader, the senior class president, and participating in volleyball and choir.  After high school, Jeanie was employed as a teacher-aide at the Coble School northwest of Mullen, Nebraska.
Following her marriage, they moved to Kearney, Nebraska where Jeanie was employed at Killion Motors, Bryant Elementary School, and Buzz's Marine.  In 1992 the family moved outside of Gibbon, Nebraska, until 1998 when they relocated to the Omaha area.  While residing at Beaver Lake, Nebraska, Jeanie was employed at Tincher Auto Group of Plattsmouth, Nebraska.
Her hobbies included bowling, soccer, fishing, archery, camping and other outdoor activities.  Jeanie was a very loving and caring mother and wife who always put her family first, and held a special place in her heart for children and animals.  Her colorful sense of humor, bright smile, and jubilant personality touched many lives and created lifelong friendships.
Jeanie is survived by her husband, Dan, of Beaver Lake, Nebraska; children, Terra and Wade, both of Lincoln, Nebraska; sister, Bonnie Bain, of Curtis, Nebraska; brothers, Don Jones of Omaha, Nebraska, and Ron Jones, of Hastings, Nebraska; mother, Neva Andrews, and stepfather, Garlan Andrews, both of Mullen, Nebraska.
She is preceded in death by her father, Vilas H. Jones.  Visitation was held on Tuesday and Wednesday, January 16 and 17, at O'Brien-Straatman-Apfel Funeral Home.  Services were held on Wednesday, January 17, 2001, at 10:30 a.m. at St. Luke's Episcopal Church in Kearney, Nebraska with Mother Janet Sturgis officiating.  Interment was at Kearney Cemetery.
Memorials are suggested to the church or to Bryant Elementary School in Kearney.