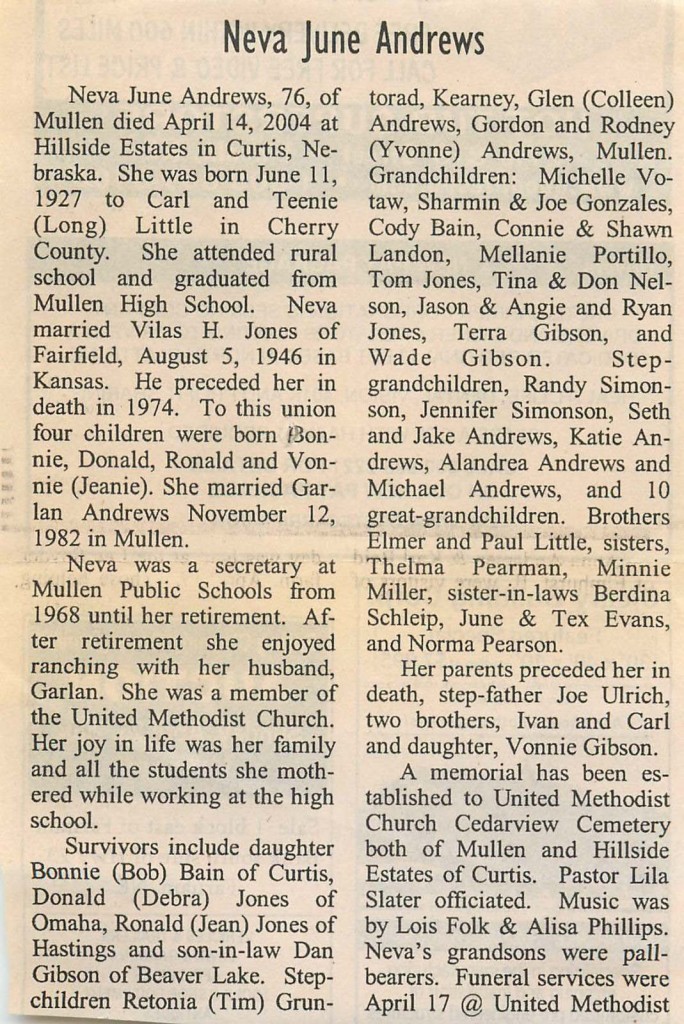 Neva June Andrews, 76, of Mullen died April 14 2004 at Hillside Estates in Curtis, Nebraska. She was born June 11, 1927 to Carl and Teenie (Long) Little in Cherry County. She attended rural school and graduated from Mullen High School. Neva married Vilas H. Jones of Fairfield, August 5, 1946 in Kansas. He preceded her in death in 1974. To this union four children were born Bonnie, Donald, Ronald and Vonnie (Jeanie). She married Garlan Andrews November 12, 1982 in Mullen.
Neva was a secretary at Mullen Public Schools from 1968 until her retirement. After retirement she enjoyed ranching with her husband, Garlan. She was a member of the United Methodist Church. Her joy in life was her family and all the students she mothered while working at the high school.
Survivors include daughter Bonnie (Bob) Bain of Curtis, Donald (Debra) Jones of Omaha, Ronald (Jean) Jones of Hastings and son-in-law Dan Gibson of Beaver Lake. Stepchildren Retonia (Tim) Gruntorad, Kearney, Glen (Colleen) Andrews, Gordon and Rodney (Yvonne) Andrews, Mullen. Grandchildren: Michelle Votaw, Sharmin & Joe Gonzales, Cody Bain, Connie & Shawn Landon, Mellanie Portillo, Tom Jones, Tina & Don Nelson, Jason & Angie and Ryan Jones, Terra Gibson, and Wade Gibson. Step-grandchildren, Randy Simonson, Jennifer Simonson, Seth and Jake Andrews, Katie Andrews, Alandrea Andrews and Michael Andrews, and 10 great-grandchildren. Brothers Elmer and Paul Little, sisters, Thelma Pearman, Minnie Miller, sister-in-laws Berdina Schleip, June & Tex Evans, and Norma Pearson.
Her parents preceded her in death, step-father Joe Ulrich, two brothers, Ivan and Carl, and daughter, Vonnie Gibson.
A memorial has been established to United Methodist Church Cedarview Cemetery both of Mullen and Hillside Estates of Curtis. Pastor Lila Slater officiated. Music was by Lois Folk & Alisa Phillips. Neva's grandsons were pallbearers. Funeral services were April 17 @ United Methodist.