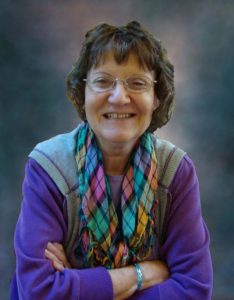 Marilyn Mae Goedert was born Oct. 7, 1948, in Alliance to Russell and Ruby (Reeves) Sommers. She attended grade school in Hyannis and later attended school in Wallace, graduating with the class of 1966. Following high school, Marilyn enrolled in the School of Practical Nursing at Kearney State College.
Following her education, Marilyn moved to Denver and worked in the surgical operating room at Colorado General Hospital and later was a private scrub nurse for three neurosurgeons in Denver. She moved to Omaha where she worked at Nebraska Medical Center as an operating room nurse for 17 years. She was the director of Recovery Services at Nebraska Organ Recovery System for 15 years. For the last nine years, she worked as a video monitor at Nebraska Medicine.
Marilyn was united in marriage to her high school friend, Jim Goedert, on March 1, 2018. Jim nicknamed her "Red" because of her auburn hair.
Marilyn loved good food and traveling. She also enjoyed "Find a Grave," power shopping and entertaining friends and family. She will be remembered for her sense of humor, which could make anyone smile.
Left to cherish her memory are her husband, Jim Goedert; children, Andrew Neal and Andrea Neal; stepchildren, Jimmy Goedert, Jeffrey Goedert and his wife, Joleen, and Jonathan Goedert; grandchildren, Titus and Shepard Neal, Caitlyn and Taylor Goedert and Kelli Kuecker; great-grandchild, Theodore Kuecker; mother, Ruby Sommers; brother, Wally Sommers and his wife, Janey; along with many nieces, nephews, other relatives and friends.
Marilyn was preceded in death by her father, Russell.
Memorials are suggested to the family for future designation.