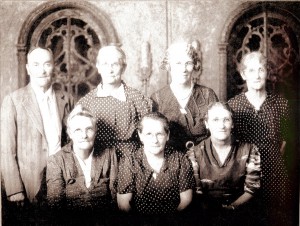 Picture taken during "Gibson Kids" reunion Sept, 1937.
On Sunday Sept., 5th, 54 relatives gathered at the home of Mary Gibson Neal for a family reunion.  This was the first time in 35 years that the "Gibson Kids" have been together.  After a bounteous dinner the six sisters and one brother journeyed to North Platte, Neb. to the Brown Studio for a group picture.  The family consists of Wm. Gibson of Mullen, Margaret Gibson Hazelbaker of Walla Walla, Wash., Mary Neal and Sarah Haney of Tryon, Neb. Agnes Thompson of LeRoy, Iowa, Ella Bower of Proctor, Montana and Anna LeLaCheur of Hot Springs, South Dakota.
Relatives present were Margaret Hazelbaker, Mr. & Mrs. Strat Bower, Mr. & Mrs. Orin Lewis Thompson, Mr. & Mrs. W.T. Haney and Fern, Mrs. Mary Neal & Clara, William Gibson, Mrs. Anna LeLaCheur, Mr. & Mrs. Scott Wisner, Letha, Michael, Mr. & Mrs. Clyde Wilson James, Loree, John & Helen, Mr. & Mrs. Edgar Deidel Wayn, Harry Audrey and Buddy, Mr. Elmer Haney Ronald and Dale, Mrs. Robert Wilson and Warren Wesley.
Taken from Thur. Sept. 9th 1937 Graphic.