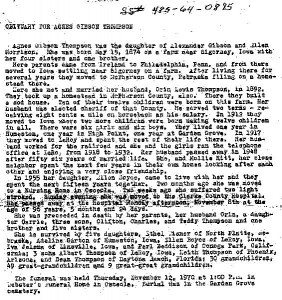 Agnes Gibson Thompson was the daughter of Alexander Gibson and Ellen Morrison.  She was born May 15, 1874 on a farm near Sigorney, Iowa with her four sisters and one brother.
Her parents came from Ireland to Philadelphia, Penn. and from there moved to Iowa settling near Sigorney on a farm.  After living there for several years they moved to McPherson County, Nebraska filing on a homestead there.
Here she met and married her husband, Orin Lewis Thompson, in 1892.  They took up a homestead in McPherson County, also.  There they built a sod house.  Ten of their twelve children were born on this farm.  Her husband was elected sheriff of that County.  He served two terms – receiving eight cents a mile on horseback as his salary.  In 1912 they moved to Iowa where two more children were born making twelve children in all.  There were six girls and six boys.  They lived one year in Humeston, one year in High Point, one year at Garden Grove.  In 1917 they moved to LeRoy and spent the rest of their life there.  Her husband worked for the railroad and she and the girls ran the telephone office at LeRoy from 1918 to 1932.  Her husband passed away in 1948 after fifty six years of married life.  She, and Hollie Hitt, her close neighbor spent the next few years in their own homes looking after each other and enjoying a very close friendship.
In 1955 her daughter, Ellen Boyce, came to live with her and they spent the next fifteen years together.  Two months ago she was moved to a Nursing Home in Osceola.  Two weeks ago she suffered two like strokes.  Sunday evening she was moved to the Clarke County Hospital.  She passed away at the hospital Monday afternoon, November 8th at the age of 96 years, 5 months and 24 days.
She was preceded in death by her parents, her husband Orin, a daughter Carrie, three sons, Clifton, Charles, and Teddy Thompson and one brother and five sisters.
She is survived by five daughters, Ethel Wisner of North Platte, Nebraska, Adeline Garton of Humeston, Iowa, Ellen Boyce of LeRoy, Iowa, Iva Lelsma of Lineville, Iowa, and Perl Beddison of Conoga Park, California; 3 sons Albert Thompson of LeRoy, Iowa, Keith Thompson of Phoenix, Arizona, and Dean Thompson of Daytona Beach, Florida; 30 grandchildren, 49 great-grandchildren and 90 great-great grandchildren.
The funeral was held Thursday, November 12, 1970 at 1:00 P.M. in Webster's Funeral Home in Osceola.  Burial was in the Garden Grove cemetery.