Archives for October 2018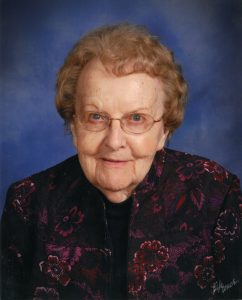 Bonnie Harriet Wilson (Skjelver), the daughter of Otto and Elsie Skjelver (Lambrecht) was born May 31, 1921, on her parents' farm north of Inavale, Nebraska in Webster County. She departed this life October 3, 2018, at the Colonial Villa Nursing Home in Alma Nebraska, at the age of 97 years, 4 months, and 2 days.
As a young girl, she attended the New Virginia county school, and then graduated from Red Cloud High School in 1940. While attending school Bonnie and her sisters lived in an apartment in Red Cloud during the week and would spend the weekends back on the family farm. She continued her education to receive her teaching certificate and taught for several years at North Star and Harmony County Schools. She told stories of building fires to keep warm and also hauling water into the schools.
On October 3, 1942, she was united in marriage with Johnny Robert Wilson in Smith Center, Kansas. To this union, they were blessed with three children, Teresa Ann, Robert Leroy, and Jayne Jo.
Bonnie was a very active farm wife and enjoyed helping out on the family farm and ranch. She would prepare and serve meals to all the farmhands and family always with a freshly baked dessert. On Wednesday afternoon you could find her working on a quilt with the ladies in the church basement. And in the evenings Johnny and Bonnie enjoyed playing cards with their many neighbors and friends.
Bonnie was active in the UMW Church group, Ladies Aid and the Ladies Extension Club. She was also a 4H leader for many years and helped with many 4H projects for her kids and grandkids.
She was preceded in death by her husband Johnny; a daughter Teresa Wilson; her parents; and a sister Eloise Sanford.
Left to cherish her memory are her son Robert Wilson and his wife Diana, her daughter Jayne Hogeland and her husband William; 5 grandchildren, Laci Dinkler and husband Scott, Amber Gibson and husband Wade, Geoffrey Hogeland and wife Kelli, Grant Hogeland and wife Tiffany, and Gillian Hogeland; 11 great-grandchildren, Makayla, Morgan, Jacob and Janaya Dinkler, Lee and John Gibson, Ian, Iaasc, Emerson, and Elliett Hogeland, and Everly Hogeland; sisters Doris Padovan and Ila Young, and a host of nieces, nephews, family members and friends.
Funeral services will be held at 10:30 am, Monday, October 8th, 2018 at the United Methodist Church in Bladen. Interment will be in the New Virginia Cemetery. Memorials are suggested to the New Virginia Cemetery.